Vietnamese version: Lễ ra mắt sách Phật giáo tại Santa Ana (California)Click to watch the video
Photos (left to right): Musician Lai Ton Dung, two authors Dao Van Binh and Nguyen Giac, and President / Founder of United Buddhist Foundation Quang Hai Phan Trung Kien

SANTA ANA (VB) - Two writers Nguyen Giac and Dao Van Binh have introduced two works, "Thien tong qua bo kia" and "Đạo Phật, Đất nước, Cuộc sống và Tâm linh" under the sponsored by the Giáo Hội Phật Giáo Việt Nam Thống Nhất Hoa Kỳ (GHPGVNTNHK) at Bat Nha Temple, Santa Ana, Southern California, on Saturday afternoon, November 18, 2017, with the participation of the great Buddhist monks and nuns, artists and fellow Buddhists.

The living room and pavilions of Bat Nha Temple were full of seats but there was not enough space for the people to attend, some had to stand outside the meeting room.

The launch was very timely, at 2pm. The opening ceremony was run by Ven. Thich Dong Minh.

Venerable Thich Nguyen Tri, First Vice President of the GHPGVNTNHK, said in opening that this is the first Bat Nha Temple (new location 4717 West First St., Santa Ana, CA 92703) welcomed many of these artists and artists to the New book introduction event, also being held for the first time at the temple. Venerable Master said on behalf of GHPGGNTNHK praised the spirit of the two authors. The Venerable said that in the busy working environment in which the writers spent their time to compose the contents of the Dharma, they contributed to the understanding of the Buddha Dharma. To pull and retain the voice and culture of Vietnam for future generations abroad is very valuable. The Venerable Master also hopes that there will be more writers on Buddhism. Looking at the writer Nhã Ca sitting in the front row, the Venerable said that she is one of the famous writers of the Vietnamese literature has written many articles on Buddhism.

Venerable Thich Nguyen Tri said as the heartfelt message that refugees like us who have abandoned their homeland to seek freedom, do not forget the ideal of protecting and promoting the Vietnamese language and culture in the sea. Foreign. The Venerable Master said that he was very happy and willing to support the authors of the book at Bat Nha Temple in the future.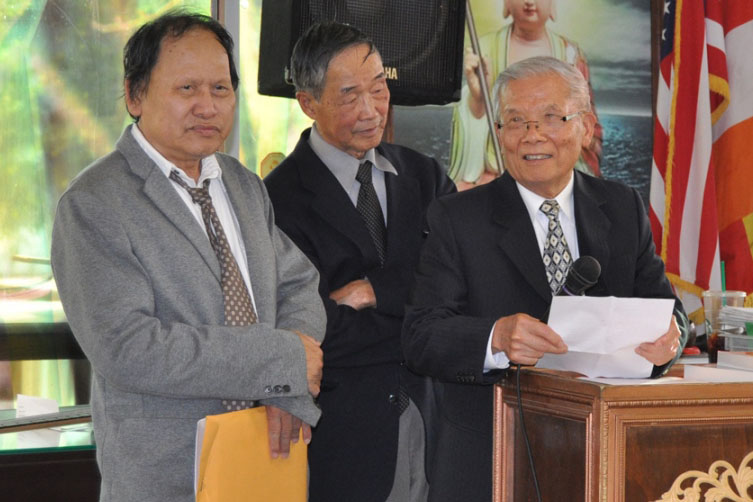 Left to right: Two authors Nguyen Giac, Dao Van Binh and the representative of Ananda Viet Foundation Publisher Tam Dieu.